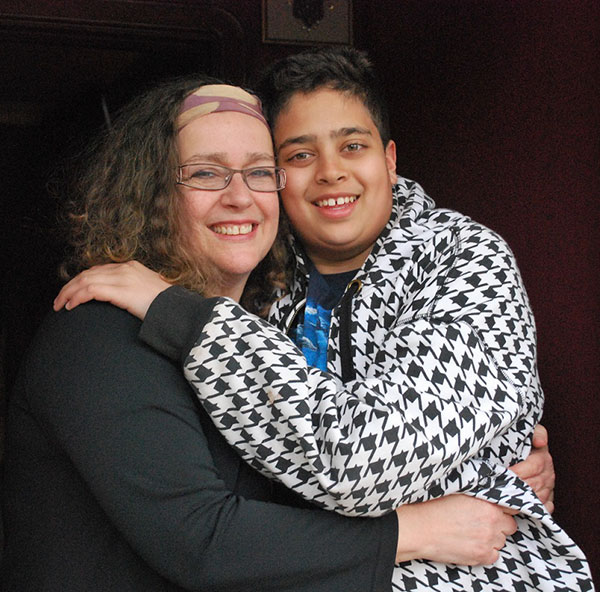 Guest blog post by Danielle Franz.
Update August 12, 2014: Great news: we found a bone marrow match for Lisa. Please continue to encourage folks to Get Swabbed at OneMatch.ca so that we can all save more lives!
I am better for the smile that you share.
As I look at this picture, I can't help but see the shared brow. Do you see the resemblance? Study that. It means something. It tells a story. The shared warmth behind the smile. The toothy humour, gapped in loving kindness. Yes, a smile can capture a heart. I am fascinated by this resemblance. Here, mother and son, share features and functions. This is Lisa and her son Ethan. Behind the scenes, they share a rich inheritance through their blood and in their genes. The hope is that they share an inherited genetic marker called the human leukocyte antigen (HLA). Here is why: Lisa has leukemia, a blood disease. Lisa needs a bone marrow transplant that matches her own. Lisa needs this in order to survive.
I can't help but wonder what other common features they share. Aha! Ethan's jacket. Yes. Another symbolic sharing. Study something long enough and you start to discover things. Can you see it? Embedded in the pattern of Ethan's jacket is the Star of David. Lisa has shared her rich Jewish heritage with her son Ethan, who enjoyed his bar mitzvah a few years back now. This is an important part of the story.
Among the many inherited markers shared by her family, no one tested has the compatible gene that would save her life. What? I can't believe it! In fact, fewer than 30 per cent of people who need a stem cell transplant find a compatible donor within their own family. Lisa has to rely on a complete stranger to donate stem cells in order to survive. Who is that person, I ask? Is it me? Could it be you? The answer is yes!
For this reason, OneMatch was created, a network responsible for finding and matching volunteer donors to patients who require stem cell transplants. Matching people like Lisa to people like you and I.
To determine if you are the match is simple. All it takes is a swab of your cheek to determine if your tissue type is a match. There are opportunities all across Canada, beginning Monday, July 21, 2014, when you have an opportunity to 'get swabbed' and be a part of this story! This swabbing event is at North Thornhill Community Centre, located at 300 Pleasant Ridge Ave. and scheduled between the hours of 2:30 – 5:30. A donor needs to be between the ages of 17 – 35 because this age group offers the greatest success rate among donors for a successful match and transplant.
Recall Ethan's Jacket and the Star of David. A person's best chance of finding a matching donor is within his or her own ethnic group. Lisa's heritage connects her to a European, Jewish community in the Ukraine. Lisa is likely to find her match within this ethnic and geographic ancestry. If that's not you, that's ok. Come out and swab anyway. OneMatch reflects Canada's rich ethnic diversity. You might be the match for someone else in need.
Lisa and Ethan are blood relatives: Mother and child. Yet, in order for Lisa to survive, she will need to rely on a complete stranger for a bone marrow match. It's in the blood of a stranger that she will find life. That tells a story. A story of human connection and sharing. The stranger becomes a friend, an ally; a lifeline. We share blood. We share life. It's in us to give.
Please Share!
Donor event:
Monday, July 21, 2014, 2:30 – 5:30 p.m.
North Thornhill Community Centre
300 Pleasant Ridge Ave., Rooms A & B
Thornhill, ON L4J 9B3
OneMatch: 1-888-DONATE for further details
https://facebook.com/SwabForLisa
https://facebook.com/onematch
Swab your cheek & join the One Match registry.